Products for HVAC sound insulation from ATIS
Good sound insulation of sewers, ventilation ducts and other noise-producing objects is an important part of the comfort of buildings, whether they are residential or industrial. No miracles are needed for insulation – just the right kind of insulation products and professional installation.
We recently expanded our range of sound insulation products with excellent ATIS products, of which we introduced SonoTube earlier. This article introduces Sonimass and Caldifol P, which, like SonoTube, are also suitable for insulating sewers, ventilation ducts and piping. In addition, Sonimass and Caldifol P work great for vibration damping when there is disturbing resonance in pipes or ducts.
All three products work great on their own, but they can also be combined. This allows you to achieve particularly good sound insulation that effectively keeps noise away from where it is not needed.
Sonimass – flexible sound-insulating mass layer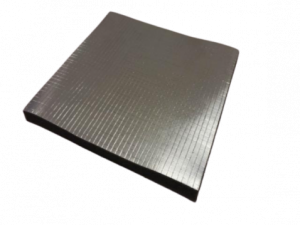 Sonimass is very similar in structure to SonoTube, but in a different shape. It consists of a layer of polyether foam, plastic ground sheet and an aluminum foil surface.
The structure of Sonimass contains the following layers:
30 μm aluminum foil surface – fiberglass reinforced aluminum or black aluminum
1.6 mm flexible plastic ground sheet
10 mm polyether foam.
As you can see from the dimensions, the total thickness of the product is less than 12 millimeters. The advantage of Sonimass is its thinness: it saves space and is suitable for limited spaces. Usually the alternative is 50 mm sound insulation, so the difference is huge.
The vapor-resistant layer of Sonimass prevents condensation, so this insulation product is also suitable for cold temperatures. Its operating temperature is -30 to 65 ºC. The applications are also versatile: Sonimass is suitable for sound insulation of sewer pipes, rainwater drains, ventilation ducts and heating systems, for example. It can be used on both curved and straight surfaces.
Thanks to its elastic materials, Sonimass is flexible and therefore very durable. It is easy to cut with a knife and install with aluminum tape and steel wire. Finally, the seams are taped with aluminum tape.
Caldifol P – plastic mass layer for sound insulation and vibration damping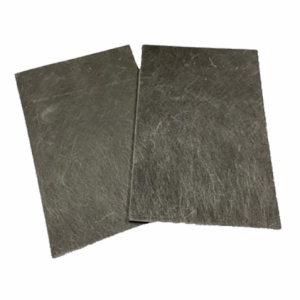 Caldifol P is a flexible thermoplastic mat available in three thicknesses: 2.5 mm, 3.5 mm and 6 mm (the weight per m2 is 5, 8 or 14 kg). Except for the thinnest thickness, the mats have a scrim on one side. Caldifol P is dark gray in color and is suitable for indoor use up to 80 °C.
There is also a better version of the product with fire retardant properties, Caldifol FR (Fire Resistant).
Like Sonimass, Caldifol is an excellent product for sound insulation in sewers and ventilation ducts. In addition to these applications, it is suitable for sound insulation of motors, industrial machines, compressor cabinets and partitions, for example.
Caldifol P can be cut with a knife or band saw and fixed with contact glue. To avoid noise leaks, it is important that the joints between the mats and other openings are carefully sealed with silicone rubber compound.
When particularly good sound insulation is required for drains or ducts, the Caldifol P insulation layer can be installed under or on top of another insulation product.
Need a sound insulation solution for your site?
Ask us more about the best sound insulation solutions. All ATIS sound insulation products are available from us on request with a delivery time of approximately two weeks.
Contact our sales or send a message using the form below.