The EU's ambitious goal is to drop CO2 emissions to zero by 2050. One of the biggest challenges is the industry in the European Union area. In order to achieve the EU's goal, all players in the industry and energy sectors must be involved in a common goal. EU must define renewed energy efficiency targets, which must also be repeated in the Member States' own energy-saving and climate plans. Each member state has a large savings potential, and these can be found in more detail in the country-specific calculations in the Eiif report.
EiiF research as a basis for calculating savings potential
Already in 2012, the European Industrial Insulation Foundation (EiiF) and the consulting company Ecofys carried out a study on the savings potential, which examined the amount of wasted energy generated by the insulation methods of the time. The survey results began to be old by 2021 due to changes in circumstances. For this reason, the results had to be updated in order to determine the actual energy losses.
Energy efficiency classes make it easier to calculate your savings potential
In addition to the update, the aim was to take the research even further. The aim was to compare Ecofys' updated figures with a situation in which everything that could be insulated would be insulated in accordance with German VDI 4610 guidelines. VDI 4610 is a set of guidelines defined and published by German engineers, divided into 7 different energy efficiency classes.
Basics of calculations
The calculations in the study are based on the know-how of Eiif members and 2500 TIPCHECK audits performed at European factories. In addition, it took into account literature sources. The savings potential was based on a study that took into account all regions, different industrial sectors, different temperature profiles, and energy sources. Because it is impossible to consider all possible perspectives and temperatures, temperatures higher than the ambient temperature were considered in this study. In addition, the study takes into account electricity generation from gas, coal, oil, and biomass.
Uninsulated and/or broken insulation was taken into account when calculating the savings potential. In addition, the calculation took into account the savings potential arising from the improvement of insulation.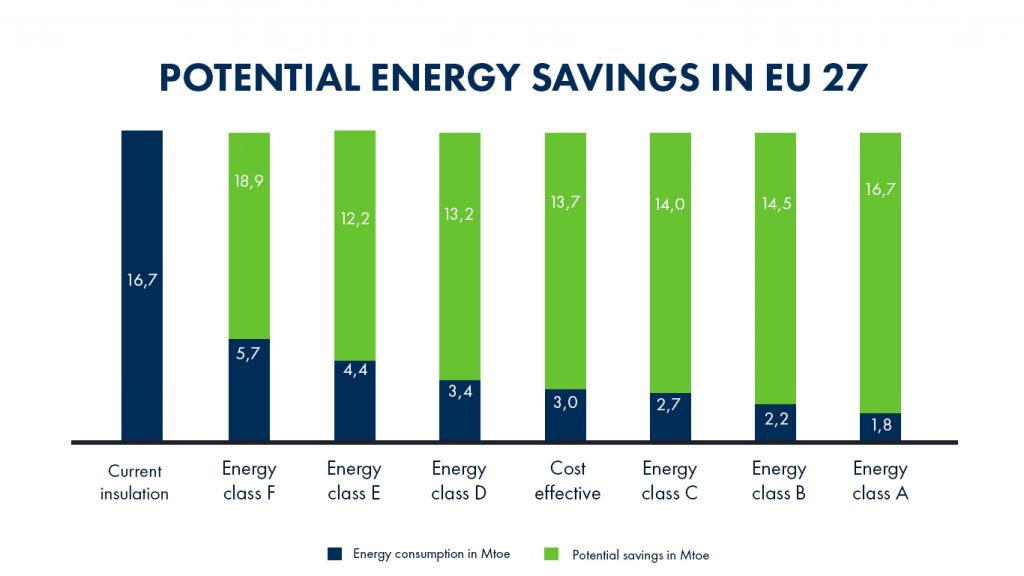 Insulation made in accordance with VDI 4610 class C, in which all not insulated surfaces are insulated, can save 88% of lost energy compared to the current amount of wasted energy. With such insulation, the savings potential is up to 14Mtoe (one toe corresponds to the amount of energy contained in one tonne of crude oil). If everything were insulated in accordance with class C, the amount of CO2 produced by the European Union area could be reduced by 40Mt every year.
How much is 14Mtoe?
Annual energy consumption of 10 million households
Annual energy consumption of all households in Hungary, the Czech Republic, and Slovakia
The annual energy consumption of 20 million cars
Lack of common insulation requirements
What is particularly problematic in the insulation sector is the lack of common insulation requirements – everyone insulates as they see is best for their needs. For this reason, insulation is already inherently deficient, and for fear of high maintenance costs maintenance is often not carried out.
The insulation industry still has old-fashioned methods and factory-specific requirements based on environmental requirements and energy prices that are up to 30 years old. In addition to this, there are many other reasons for insulation failure:
Ignorance of decision-makers about insulation work and the savings it brings.
At the beginning of planning, the insulation is ignored, and then the insulation is planned in hurry at the end of the construction phase when the solutions don't meet the environmental needs nor cost efficiency needs.
Insulation work is not a core business in the work of decision-makers and is only seen as a cost.
Lack of knowledge.
Benefits of insulation
Adequate insulation reduces the amount of energy used in factories. The EiiF report provides an example where the insulation of the storage tank was improved, and energy costs fell by several tens of thousands of euros annually. The payback period for the insulation was less than 2.5 years. More interesting examples of the benefits of insulation can be found in the same report.
Emissions will also be reduced through reduced energy costs. And this again has an impact on the amount of the carbon tax. A carbon tax is paid on the CO2 emissions produced, while insulation can reduce emissions, which also reduces the amount of taxes.
In addition to cost savings and positive environmental impacts, insulation affects the life cycle of factories. It is possible to reduce the life cycle costs of factories and increase production efficiency. For example, corrosion damage can be prevented, thus minimizing downtime and damage.
Insulation also has an impact on work safety and work satisfaction. Insulating hot pipes, valves, and flanges can significantly reduce accidents at work and keep the temperature in the work environment constant. In addition, unbroken insulation keeps factory processes safe and usable, so that broken insulation does not cause injuries.
Common and mandatory insulation requirement
According to the EiiF report, in order to achieve the savings target, a mandatory minimum insulation requirement corresponding to the energy classes of VDI 4610 is required for everyone. All new plants built in Europe should be insulated to the standard and all broken insulation repaired and existing insulation upgraded to comply with VDI 4610. This would bring benefits from a number of perspectives:
Climate
Reduction of CO2 emissions by 40 MB / year
Reduction of energy consumption 14 Mtoe / year
Europe
Carbon neutrality by 2050
Creating new jobs and maintaining existing ones
Industrial
Increased competitiveness
Investment opportunities with a short repayment period
A safer work environment
The goal cannot be achieved alone
Every EU member state must contribute to achieving this goal. In addition, expert help is needed to do the insulation work, common insulation requirements, and commitment. Adequate insulation has so many benefits, so it's a wonder if the industry doesn't seize the opportunity.
Together we can ensure that future generations can live and make their dreams come true.
Read full Eiif's report here.
For more information, please contact us.