Integrity Products Inc.

Kespet Oy supplies the complete Integrity Products CUI collection:
Integrity Plugz inspection ports
Fire Plugz fireproof inspection ports
Integrity Pillowz thermal shields for inspection ports
Drain plugs and water indicators
Insulation spacers
Termination gaskets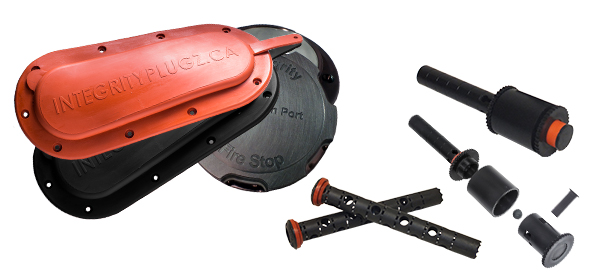 Integrity Products Inc. manufactures high quality inspection ports and accessories such as water drain plugs and indicators. The products enable easy inspections for CUI (Corrosion Under Insulation) and pre-emptive countermeasures to prevent it. They are easy to install and thanks to their material, are resistant to high temperature levels. The patented Integrity Plugz -inspection ports make for a very cost effective way of fighting CUI and upkeep of insulation installations.
This is because the protective claddings don't have to be removed and uninstalled to make an inspection, a costly and time consuming procedure. Corrosion under insulation is a constantly growing problem, as installations in processing plants and the like are aging. These products help prevent CUI, and work as a tool to detect possible problems early on. This translates to more service years for the insulation installations, which in turn means savings. Work site security is also improved as potentially dangerous device- and or pipeline failures can be detected before it's too late.
Product information brochures: